Our School Bus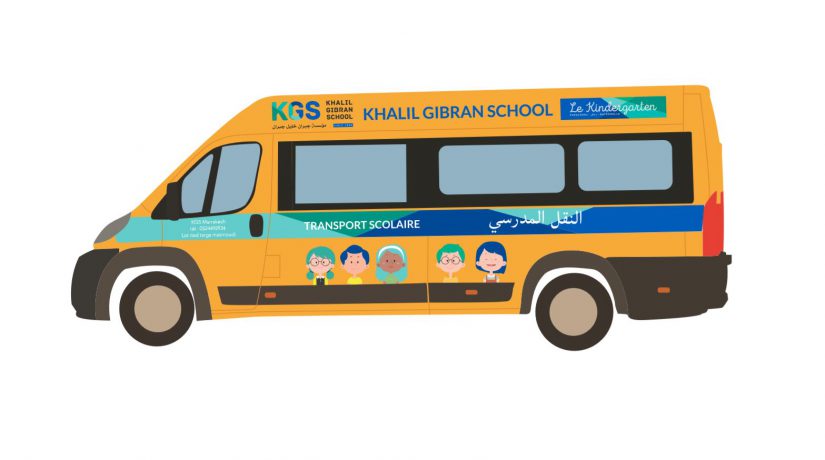 Khalil Gibran School offers secured and air-conditioned vehicles for the transportation of its students. Itineraries and schedules are set up on a perimeter wide enough to allow a large number of students to benefit from this commodity. To provide you with the necessary information related to timetables and itiniraries, please contact our administration.
Bus Routes
Getting your child to and from school safety is our number one priority.
Students who are independent and confident, inquisitive and enthusiastic,
responsible and compassionate.

Zone One
| | |
| --- | --- |
| SAADA | 7:20 am |
| TARGA | 7:40 am |
| EL AZZOUZIA | 7:45 am |
| MASSIRA | 7:50 am |
| KGS | 8:00 am |
ZoneTwo
| | |
| --- | --- |
| GUELIZ | 7:22 am |
| BAB DOUKALA | 7:35 am |
| KGS | 7:56 am |
Zone Three
| | |
| --- | --- |
| LOTISSEMENT HASSAN II | 7:10 am |
| SUD AZLI | 7:17 am |
| AIN MEZOUAR | 7:30 am |
| TARGA | 7:45 am |
| KGS | 7:56 am |
Zone Four
| | |
| --- | --- |
| IZDIHAR | 7:05 am |
| DAOUDIAT | 7:15 am |
| ROUTE CASABLANCA | 7:35 am |
| MEBROUKA | 7:50 am |
| KGS | 7:56 am |